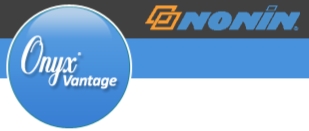 All-in-One Fingertip Oximeter™

The best just got better. Nonin the world leader in fingertip oximetry has designed years of clinical experience into the Onyx Vantage. Accuracy matters and Onyx Vantage 9590 finger pulse oximeter provides accurate data for actionable decision making.

The Onyx is the only finger pulse oximeter with scientifically proven accuracy in the most challenging cases, including patients with low perfusion or dark skin tones.
Not just a new look - the Onyx Vantage offers:
Accurate – Scientifically proven performance in the widest range of patient populations and settings.
Durable – Protects against dropping and water spills; allows for thousands of uses in the most demanding environments.
Efficient – Up to 6,000 spot checks or 36 hours of continual operation on two AAA batteries.
Safe – Built in the USA with lead-free and latex-free construction.
Versatile – One unit works on the widest range of patients from pediatric to larger adult patients.
Warranted – Industry leading 4-year warranty.
Available in four colors – Black, blue, red and purple.
Cost Efficient – Proven accuracy, quality and durability make the Onyx Vantage a smart purchase.
Comfortable to carry anywhere—it is lightweight and only weighs two ounces.
Complete with lanyard, instructions on CD, and two AAA batteries.
5.59 cm (2.2") L x 3.3 cm (1.3") W 3.23 cm (1.27")H
Built to last in the USA.
Optional carrying case available seperately.